Beyond Borders ECPAT Canada President Rosalind Prober retires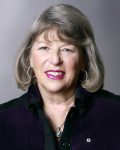 Beyond Borders ECPAT Canada President Rosalind Prober retires
Winnipeg, Manitoba, April 13, 2015 –The co-founder and president of Beyond Borders ECPAT Canada, RosalindProber, has announced her retirement as President of the organization.
In 1996, Prober participated in the first World Congress against Commercial Sexual Exploitation of Children in Sweden. After this eye-opening conference Prober, along with children's rights lawyer, Mark Erik Hecht, founded the organization to bring global justice to child victims of sexual exploitation.
Volunteers from across Canada soon joined them in the work to protect children and bring about legal reform. Beyond Borders ECPAT Canada is now recognized as a powerful voice for children who have been sexually exploited at home and abroad and is part of an international network of like-minded activist organizations called ECPAT International. ECPAT International is based in Bangkok, Thailand and is active in 77 countries worldwide.
Rosalind is also a co-founder of Canada's national tip line to report online sexual victimization, cybertip.ca. 
During her time with Beyond Borders, Prober has witnessed the success of a number of the organization's legal initiatives, including:
the "Prober Amendment" to Canada's child sex tourism legislation (1997). This broadened the legislation to include all sexual crimes against children as extraterritorial crimes.

an increase in Canada's legal age of consent from 14 to 16 through Bill C-15,

the passage of Bill C-310, making human trafficking an extraterritorial offense similar to Canada's child sex tourism legislation
Prober became a relentless advocate for social and terminology change for children sexually exploited in prostitution then known as "kiddie hookers"; for victims in child abuse imagery then known as victimless pictures of "kiddie porn"; for silent sexually abused boys and men then thought to be very small in number. 
Beyond Borders hosts a Symposium and an annual Media Awards to honour Canadian journalists who have done exceptional work covering the issue of child sexual exploitation. It is also behind awareness campaigns such as the Man to Man/Homme à Homme, and was the first NGO in North America to have a national airline run videos to protect children from child sex tourism, child pornography, and child sex trafficking.
Beyond Borders ECPAT Canada is part of an exhibit at the new Canadian Museum for Human Rights on the issue of child sexual exploitation. This exhibit features the contribution Beyond Borders has made to legislative reform in Canada and its advocacy against child sex tourism.
Prober was honoured with the Order of Canada in 2010. In 2007 she was named a YMCA MB Woman of Distinction and in 2011 a Canadian Woman of Influence.
"We have all benefitted from the passion and commitment of Rosalind Prober – she has worked tirelessly to give an advocacy voice to child victims of sexual exploitation that may otherwise have gone unheard – both at home and abroad.  Roz has been instrumental in drawing a line in the sand on issues of violence against children, with an emphasis on advocacy, prosecution and accountability.  Beyond Borders is committed to continuing on in the tradition established by Roz, and we give her our heartfelt congratulations on all she has accomplished in over 20 years of advocacy."  Nicole Merrick, Beyond Borders Lawyer and Vice-President.
"After 20 years of speaking out for the sexually exploited children Beyond Borders ECPAT Canada serves, I am very delighted and proud that our national volunteers will continue to advocate for children, as sadly the problem continues," said Prober.
Darlene Newton has been selected by the board to serve as the organization's new president.
For more information, contact:
Darlene Newton: 1.204.880.2567 darlenenewton@beyondborders.org 
Rosalind Prober C. M.: 1.204.793.7080 rprober@beyondborders.org